GIF Webinar Guide
---
Generation IV International Forum (GIF) shares GIF knowledges through GIF Webinars. The GIF Education and Training Working Group invites you to participate in monthly webinars presented by worldwide experts explaining GEN IV policies and technologies leading the next nuclear generation. Launched in September 2016, the current webinar series includes over 40 recordings of lectures already conducted. GIF webinar series are categorized into 8 genres as below and you can watch the webinar which you feel interest, and the latest monthly GIF webinar is here!
You can add English subtitle by YouTube option.
---
---
2. Safety, Quality and Regulation
---
3. Sustainability and Fuel Cycle
---
4. Generation IV System Design and Related Technology
4-1. Fast Reactors in Performance and Feasibility stages and related technology
---
4-2. Advanced Reactors with Specific motivations in Performance and Feasibility stages
---
---
6. Operational Experience
Presenter: Dr. Joel Guidez, CEA, France
France energy situation is specific : no fossil energy available ( oil, coal, gas, etc..), a large fleet of PWR in operation providing about 80% of electricity , and a successful reprocessing activity providing each year about 10 tons of plutonium. In this situation, sodium fast breeder reactors would be very useful for the country, and have been developed with the Rapsodie, Phenix and Superphenix reactors. The feedback experience of these reactors has been analyzed and collected in two books "Phenix: the feedback experience" / EDP sciences 2012, and "Superphenix: Technical and Scientific achievements" / Springer 2016. This thematic analysis was performed on materials, fuel, neutronic, thermal hydraulic, components, water sodium reaction, sodium leaks, safety, and more generally on all the specific technical matters related to this type of reactor. The presentation gives, for each theme cited above, the main results obtained and the main conclusions or recommendations for the future of sodium fast breeder reactors.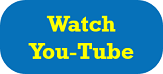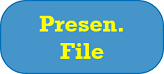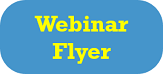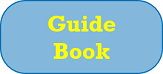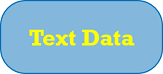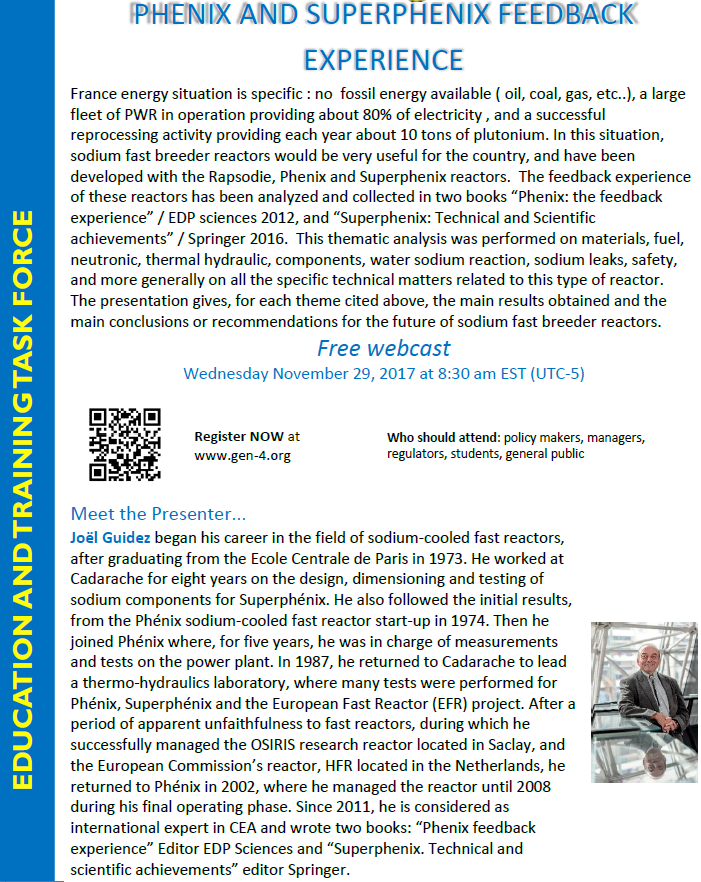 Presenter: Mr. Gilles Rodriguez, CEA, France
This presentation will first place the context of the choice of Sodium Fast Reactor in the French Nuclear Policy and its rationale for a closed fuel cycle. It will then present the position of the French Sodium Fast Reactor program in the context of Generation IV. The presentation will then focus on the ASTRID (Advanced Sodium Technological Reactor for Industrial Demonstration) project. The technical achievements, major innovation progress and management challenges will be presented. The ASTRID project description will highlight the major use of digital tools (numerical simulation, use of virtual reality, multiscale and multi-physics modeling, PLM: Product Lifecycle Management) used to perform efficiently such a complex project.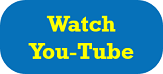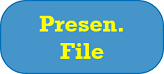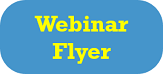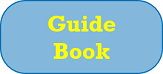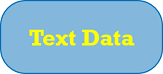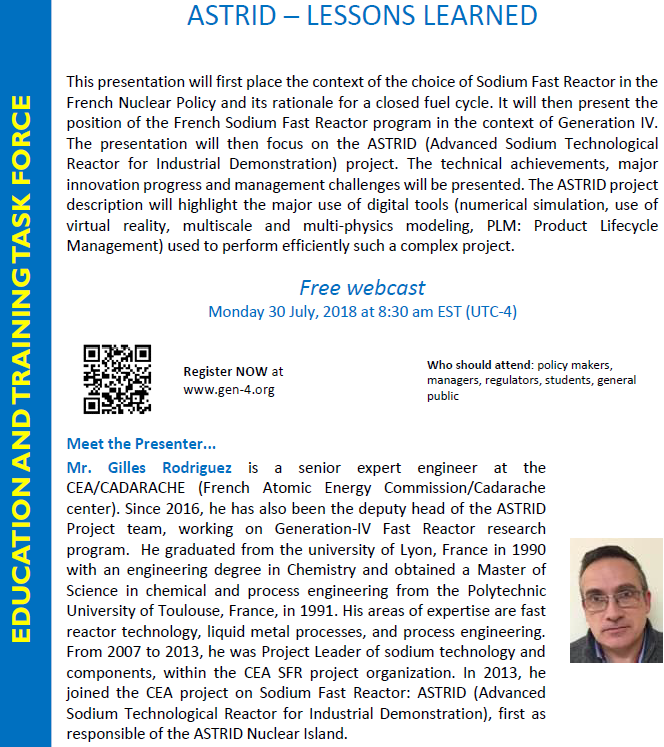 Presenter: Mr. Ilya Pakhomov, IPPE, Russia
Russia occupies a leading position in the field of sodium-cooled fast reactors (SFR) in the world. The following SFRs have been constructed in the USSR and in the Russian Federation: BR-5/BR-10, BOR-60, BN-350, BN-600, BN-800. Total operation experience of the USSR/Russian SFRs exceeds 160 reactor-years, i.e. more than one-third of the total world SFR operational experience. The test reactor BOR-60 and industrial NPPs with the BN-600 and BN-800 reactors are in operation now. Currently the BN-1200 reactor design of a commercial SFR of the 4th generation is under development in Russia and a new MBIR multifunctional research fast reactor is under construction. A 38-year successful operation of the BN-600 reactor has demonstrated a feasibility and maturity of the SFR technology. The main purpose of the BN-800 reactor is to demonstrate closing the nuclear fuel cycle. The BN-1200 is aimed to achieve competitiveness with LWRs and to provide a high level of safety based mainly on passive safety systems and inherent SFR safety features. The main characteristics of the BN-600 and BN-800 reactors are described, and operational parameters achieved (burn-up, load factor, etc.) are discussed. The main stages of the BN-600 and BN-800 operations are indicated, and the operational experience gained is analyzed, including events with sodium leaks outside and leaks in steam generators. The presentation summarizes main lessons learned from the BN-600 and BN-800 operational experience and relevant recommendations for future SFRs.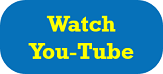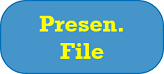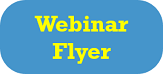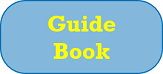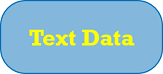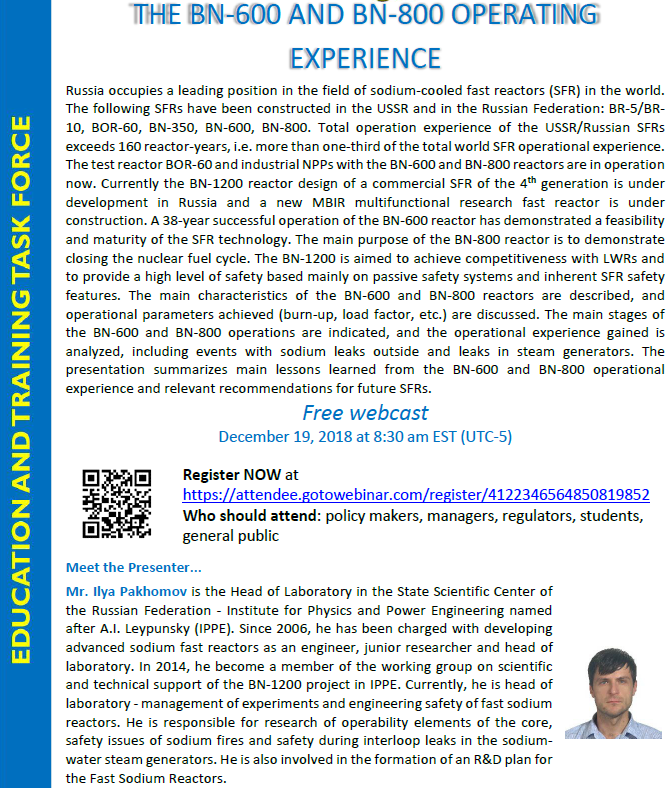 ---
7. Generation IV Cross Cutting Topics
---
8. Webinars by winners of the Contest for young generation (EPiC)
Presenter: Mr. Matthieu De Campos, Universite de Lille 1, France
This webinar discusses the formulation of an alternative cement matrix for solidification/stabilization of nuclear waste. The presentation provides an overview of the multiple complexities of waste management, and the many challenges that arise from it. Topics include a presentation of the French nuclear waste management methods, specific examples on solidification/stabilization of nuclear waste, the physico-chemical aspects of the interactions between the containment matrix and the waste, and the miniaturization of samples for the development of new matrices allowing human radiation protection. The webinar also highlights current experimental research focused on Portland cement and a magnesium potassium phosphate cement matrix. The latter is a promising cement for the stabilization/solidification of heavy metals. Other potential cementitious matrices will also be discussed.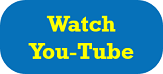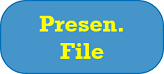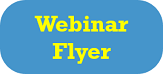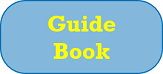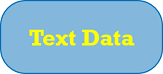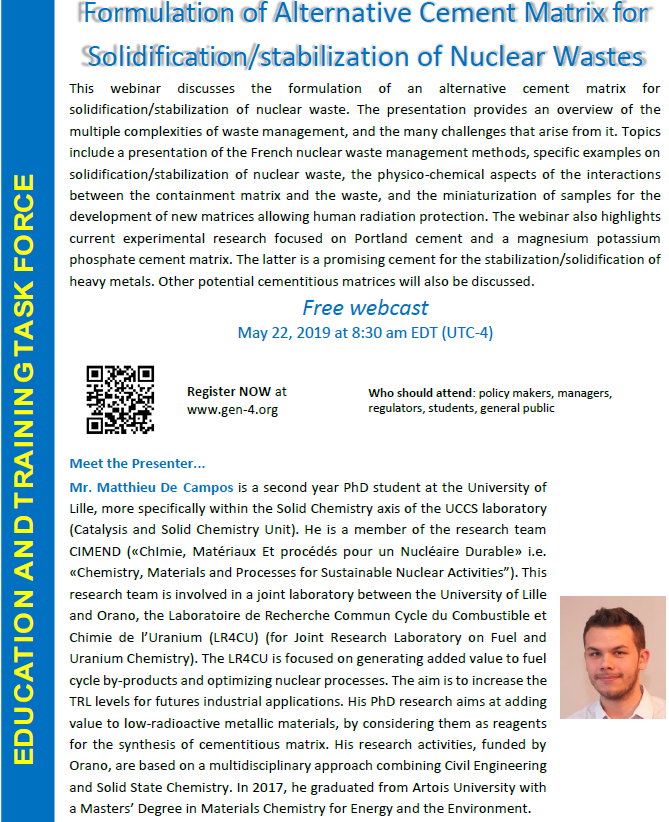 Presenter: Mr. Guilhem Kauric, CEA, France
An overview of severe accident scenarios in Sodium-cooled Fast Reactors will be presented, focusing on the thermochemistry aspects and how the CALPHAD method could be used to enhance the prediction of the different phases that could form depending on the conditions of the system. CALPHAD, which stands for CALculation of PHAse Diagram, is a semi-empirical method that enables to develop a thermodynamic model based on the Gibbs free energy of the gas, liquid and solid phases as a function of temperature, pressure and composition of the system. Experimental measurements of the thermodynamic properties of some fission product compounds formed in the Joint Oxide Gain after interaction with sodium will be presented. These data will be used as input for the thermodynamic modeling.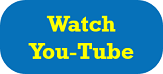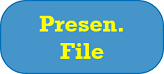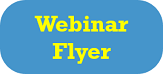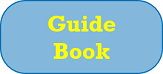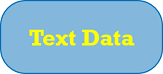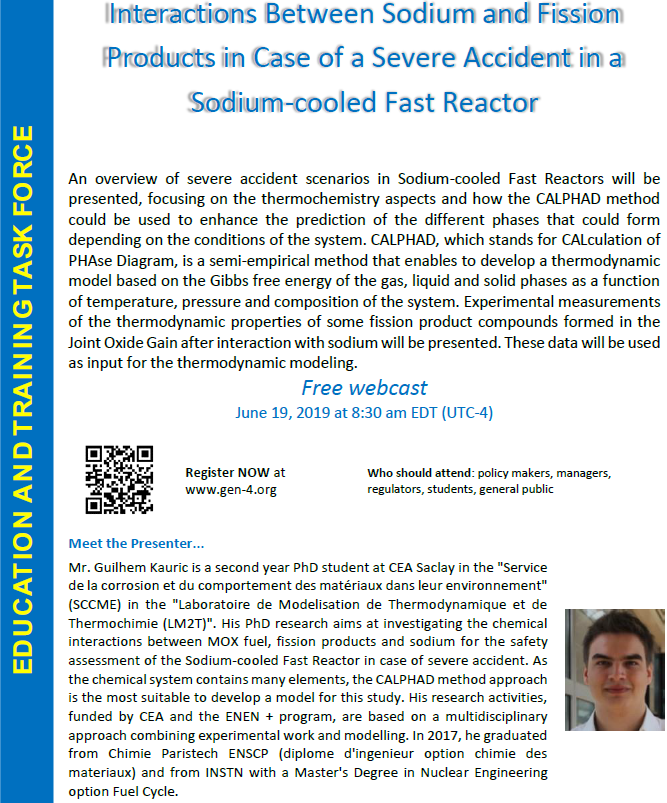 Presenter: Ms. Fang Chen, CEA, France
This webinar provides an overview of a Sodium Fast Reactor system and presents an accident scenario in Compact plates Sodium-Gas heat Exchangers (ECSG) of SFR. The overpressure (180 bar in the nitrogen loop while 5 bar in the sodium loop) could result in nitrogen leaking into the liquid sodium. The present work focuses on the analysis of the predominant physical phenomena in the jet (the viscous diffusion, the momentum exchange between the two fluids) and supersonic gas jet, the development of the compressible multiphase flow model (Baer-Nunziato model) and its numerical schemes. In addition, the model is implemented using the numerical tool CANOP that enables researchers to generate the Adaptive Mesh Refinement and to calculate in parallel.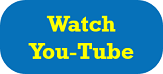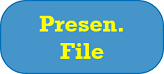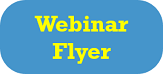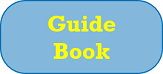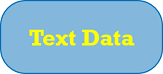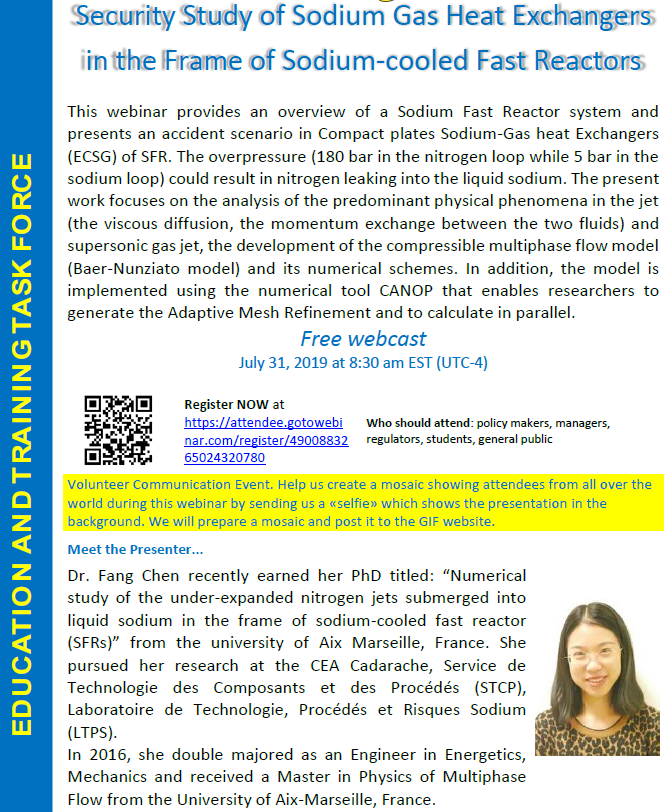 ---
9. Event
Special GIF/IAEA/NEA Joint Webinar
"Nuclear energy is ready to contribute to global net zero". Some people think this sentence as fact, some people doubt and think too early to say due to technical or/and psychological reasons. Sustainable, safe, clean, reliable, flexible and affordable energy source for 24/7, that is we really want in our daily life. Therefore, people make efforts to develop these characteristics in each energy sources to fill gaps to the ideal and desirable energy.
In GIF, not only historical GIF goals (Sustainability, Economics, Safety and Reliability, Proliferation Resistance and Physical Protection), but also have activities in this field. Pursuit flexible characteristics with CEM NICE Future/COP26, release ESG asset report, and launch new TF, whose name is Non-Electric applications of Nuclear Heat: NEaNH, to draw commercialization map depended on market needs.
Off course, these kinds of approaches are taken in various organizations to obtain clear future vision in vague present. So, in this webinar, three worldwide leaders in this field, from GIF(NEaNH), IAEA, and NEA are invited to have each 20-minute presentations and following panel discussion. Let's join future searching event for better tomorrow.

Guest Speakers:
Dr. Shannon Bragg-Sitton (GIF NEaNH-TF, INL), Accelerating Economy-Wide Decarbonization via Nuclear Energy
Mr. Wei Huang (IAEA NEPIK),Nuclear Energy, An Important Part of Solution to Net Zero World
Ms. Diane Cameron (OECD NEA),Meeting Climate Change Targets: The Role of Nuclear Energy

Moderators:
Dr. Patricia Paviet (GIF ETWG, PNNL)
Dr. Tatjana Jevremovic (IAEA WCRT)